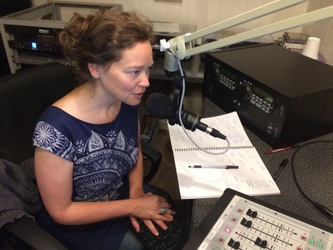 I am an artist and sociologist working with radio, text and performance. I often work collaboratively.
These days I also make radio stations of varying durations and scales.
SkottegatenFM
was a mini-FM radio station transmitting daily from my dining room table for three months including neighborhood street party broadcasts. In 2021 I launched an ongoing city-wide community AM + FM radio station called
Radio Multe 93.8FM,
inspired by multebær
(cloudberries). We broadcast at select times.
In 2022 I joined the international feminist radio group,
Shortwave Collective.
Most recently I have been working with radio interference and created an
unnamed shadow/ jamming radio station
next to Radio Multe. I am currently working on a piece for broadcast, "Seijo and her Soul" and on an essay, "Re-imagining the Radio Station," about the radio station as an artistic form.
Sociologically, my focus has been on subjectivities in post-capitalist politics as a member of the Community Economies Collective and on performance, critical and auto-ethnographic methods.
I live in Bergen, Norway, where I am an Artistic Research Fellow at the Faculty for Art, Music and Design, University of Bergen.