Winer & Spring 2021
5/4-5/6: Re- radio: Radio Art's Evocations production course for BA and MA art students at KMD in Bergen

3/20: SkottegatenFM joins Borealis' Resonating Nordnes, a curated day of experimental sounds all over Bergen's Nordnes neighborhood. 10.00-16.00

3/16 & 2/16: Artistic research presentations of re- radio and SkottegatenFM for KMD staff research seminar and DIKU's Artistic Research Spring Forum

2/12: Three radio works included in Femkanje's Spaces of Togetherness exhibit at the Cultural Center in Belgrade and online. Femkanje is a Serbian feminist sound and podcast project of Bojana Knežević and Katarina Petrović

2/8: "Listening and Becoming through Sound: Audio Autoethnographic Collaboration as Critical Communication Pedagogy" by Dr. Deanna Shoemaker and me will be published in The Review of Communication, part of their special Re(sounding) Pedagogies Issue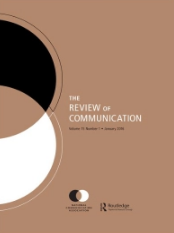 2/6: Launch of SkottegatenFM at 88.66FM, a 3-month FM micro-radio station transmitting from my apartment in Bergen and from the homes of neighbors. Listening station available at Hordaland Kunstsenter. Weekly schedules posted here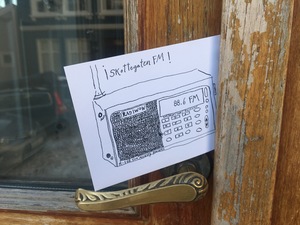 2/6: Beginning a work residency from home with the wonderful BEK (Bergen Senter for Elektronisk Kunst) to create SkottegatenFM.
---
Summer & Fall 2020
12/20, 12/13, 12/6: the blue moment, a 3-Sundays-in-December live radio show on The Lake Radio with William Kudahl. Welcoming the changing winter light at dusk with music, sounds and friends.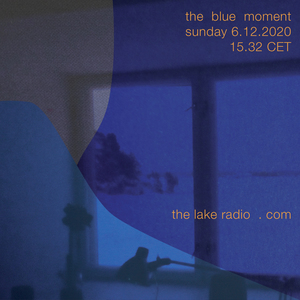 12/16: "The Psyche and Cupid Radio Hour" old school radio program on Bergen Kringkaster, 18.00 RUMMUR_Radio at 1314AM + 93.8FM in Bergen, Norway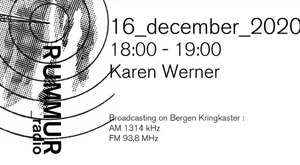 11/25: "The Path of a Two-Way Movement" commissioned by the radio art collective MÆKUR in honor of the release of their record CONDITIONS: 1218​-​0719. Live performance at Bergen Kjøtt in Bergen, Norway

10/25: "Strange Radio Episode 1: Transmission" journeys east for the 2020 Tbilisi Architecture Biennial for a radio exhibition curated by Common Waves Radio Collective

10/14: Norwegian Artistic Research Conference presentation of re- radio

10/13: "The Archive of Future Signals" included in Kate Donovan's radio show, Matters of Transmission: Futures and Frequencies on Cola Bora Dio, 88.4FM in Berlin and 90.7FM in Potsdam, Germany.

9/15: "The Archive of Future Signals," a hörspiel produced and released as part of the 2019-2020 Wave Farm Radio Artist Fellowship

7/4: "Signals and Connections: Archival Processes," (45:00) a collaboration with Maia Urstad for Bergen Kunsthall, Norway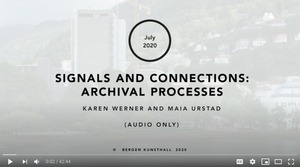 ---
Winter & Spring 2020
4/18: Listening In the Dark Radio Art Party, 8-10pm broadcast on WGXC 90.7fm and streaming at Wave Farm. Archived for listening at your leisure here. Dim the lights, grab your pillow and cuppa and cozy up to the radio for this premiere romp through the Wave Farm Radio Art Archive featuring radio art classics and contemporary delights. I host and curate. Together through the distance...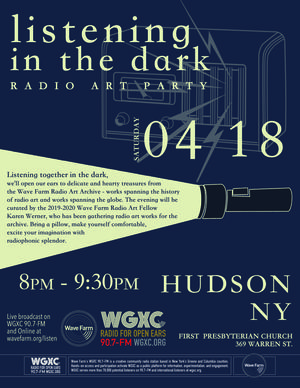 4/5: One of 5 artists chiming in with a piece for Meira Asher's Radioart106 episode #125 Look Up Lock Down, broadcast on Rebootfm (Berlin), USMARADIO (San Marino), Rabe (Bern), and Chimeres (Athens).

3/22: Live guest collaborator on Roberto Paci Dalò's Crown: Fighting the Lockdown through Radio, USMARADIO and Radio Papesse. Archived here.

3/1 : Start of Artistic Research Fellowship at the Art Academy's Department of Contemporary Art, University of Bergen, Norway

2/4: Publication in Rethinking Marxism of "Imagining Loss," a collaboration with Serap Kayatekin
---
Summer & Fall 2019
10/16: "Strange Radio Live! Listening to the Deep Connection: Lecture-Performance Transmission," ARTNOW public event, 4:30-6pm at Edison Hall, Monmouth University, NJ (Part of week-long Artist Residency at Monmouth)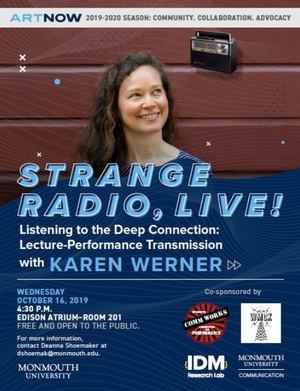 10/1-5/30: Memorial Foundation for Jewish Culture Fellowship for 2019-2020 supporting the development of "Houdini, A Radio Opera," adapted from Muriel Rukeyser's musical play, Houdini.

9/1-5/30: Wave Farm Radio Artist Fellowship for curating, creating, and teaching radio art. Honored to receive this inaugural 9 month fellowship funded by the National Endowment for the Arts.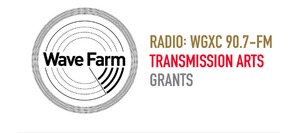 Beginning September 2019, the Wave Farm Radio Artist Fellowship is nine-month, part-time engagement for an American radio artist with strong interests in the history of radio art and related practices. The Fellow will work closely with Wave Farm's Executive Director, Galen Joseph-Hunter, and Artistic Director, Tom Roe, and will communicate regularly with Fellowship Mentors: Anna Friz, Joan Schuman, and Gregory Whitehead.The fellow will develop an audio archive of noteworthy historic and contemporary radio artworks including brief introductory and contextual information for publication on the Wave Farm website. Drawing from the archive, produce approximately five hours of radio art programming weekly on Wave Farm's WGXC 90.7-FM. The fellow will also create original radio artworks for broadcast and lead three workshops and/or listening sessions with WGXC's volunteer programmers.


8/23: Live Radio Broadcast, Saari Residency Harvest Party, near Mynämäki, Finland, a collaboration with Dılşa Perençick. Next best thing to being there!

7/21-8/2: Artist-in-residence Monson Arts, Monson, Maine