Winter & Spring 2022
5/21: Radio Multe 93.8fm joins with Lakri FM for an afternoon broadcast in collaboration with Gåologi, a performance about walking and the city by Alwynne Pritchard and Eva Pfitzenmaier. We are turning an old ticket kiosk in Laksevåg into a radio station, 14.00-18.00.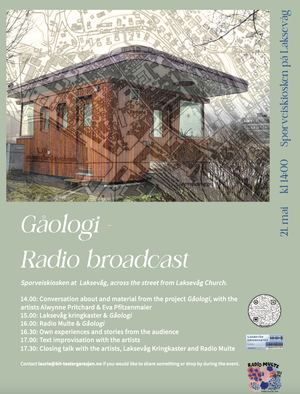 5/4: We Meet at Dusk, broadcasting from a boat at dusk, a radiophonic lullaby for the day by Kjersti Sundland, Sidsel Christensen and me. Listen at 93.8fm or radiomulte.live, part of Hordaland Kunstsenter's exhibition "We Meet at Dusk."

3/20: Radio Multe 93.8fm joins with Borealis' Resonating Nordnes. "Byen Vår/ Our City: Nordnes," a live oral history with Evy Sørensen by Anna Watson + Karen Werner, live music by Fabian Lanzmaier, 10.00-13.00.

3/11-14: Sounding Research, Angewandte, Vienna. A 3-day series of workshops and audio paper presentation organized by Ricarda Denzer. I will be giving a workshop and performing an audio paper about radio jamming.