Summer & Fall 2020
7/4: "Signals and Connections: Archival Processes," collaboration with radio artist Maia Urstad for Bergen Kunsthall, Norway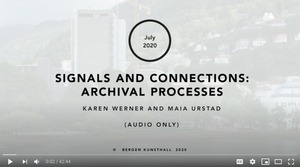 ---
Winter & Spring 2020
6/1: So happy a collaborative article with Dr. Deanna Shoemaker is coming into the world: "Listening and Becoming through Sound: Audio Autoethnographic Collaboration as Critical Communication Pedagogy" will be published in The Review of Communication.

5/21: UnionDocs Radio Art Talk & Broadcast, Brooklyn, NY, culminating event of the 2019-2020 Wave Farm Radio Art Fellowship. POSTPONED

4/18: Listening In the Dark Radio Art Party, 8-10pm broadcast on WGXC 90.7fm and streaming at Wave Farm. Archived for listening at your leisure here! Dim the lights, grab your pillow and cuppa and cozy up to the radio for this premiere romp through the Wave Farm Radio Art Archive featuring radio art classics and contemporary delights. Hosted and curated by moi! Together through the distance...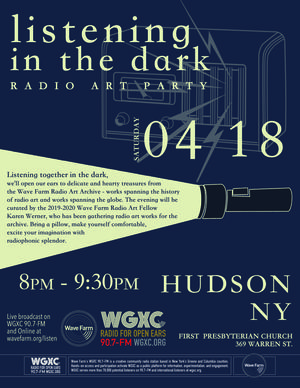 4/5: One of 5 artists chiming in with a piece for Meira Asher's Radioart106 episode #125 Look Up Lock Down, broadcast on Rebootfm (Berlin), Usmaradio (San Marino), Rabe (Bern), and Chimeres (Athens).

3/1 : Start of Artistic Research Fellowship at the Art Academy's Department of Contemporary Art, University of Bergen, Norway

2/4: Publication in Rethinking Marxism of "Imagining Loss," a collaboration with Serap Kayatekin